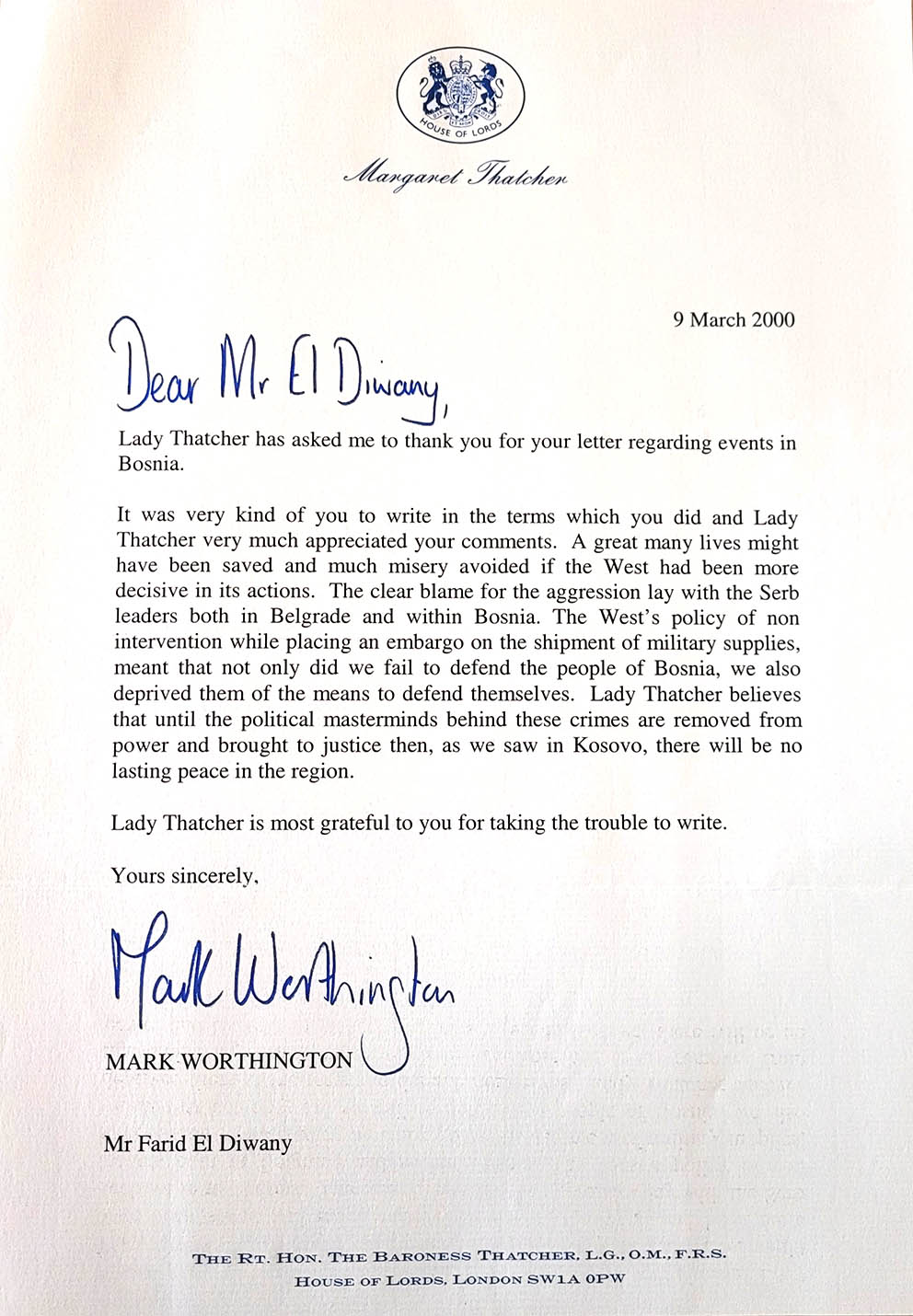 The truly heroic Lady Margaret Thatcher, former British Prime Minister, wrote to me in 2000 on the subject of Bosnia to relate her disgust at the 'West's policy of non-intervention whilst placing an embargo on the shipment of military supplies [to the Muslims in Bosnia]'. I met a Serb lady in Paris in 1999 who told me that "Slobodan Milosevic would never have invaded Bosnia if Margaret Thatcher had still been in power". Mrs Thatcher had just left power in 1990 when that spineless coward and Islamophobe John Major took over as P.M - who had the equally amoral Malcolm Rifkind as Defence Secretary and Douglas Hurd as Foreign Secretary who between led the way in the West's disgraceful neglect when leaving the Muslims to their fate and the inevitable slaughter by depriving them of the means to defend themselves. Srebrenica: 8,000 men and boys executed in cold blood in summer 1995 by the Serbs was end result. It was Douglas Hurd who said he did not want to create "a level killing field" by letting the Muslims arm themselves. Malcolm Rifkind called Mrs Thatcher "mad" following her attempts to lift the arms embargo in the early 1990's. That's the sicko British establishment for you with its civil service full of Islamophobic bigots. Ethnic cleansing in the guise of not wanting "a level killing field".
Come 1995 NATO bombed Serb positions in Bosnia. After Srebrenica.
John Major, Douglas Hurd and Malcolm Rifkind will burn in Hellfire on Judgment Day and I'm sure the Iron Lady, Margaret Thatcher, will be watching with glee. God bless Margaret Thatcher and her family. Prince Charles too was furious at the Major/Hurd/Rifkind mindset as Jonathan Dimbleby's biography on HRH revealed.
Farid El Diwany
November 2021