Letter before Claim ... against senior members of the Solicitors Disciplinary Tribunal - Gerald Sydenham and John Colin Chesterton - for deliberate misconduct and adoption of severe racist abuse which the SRA refused to investigate. Solicitors Gerald Sydenham and John Colin Chesterton supported a Norwegian citizen, a registered mental patient no less, whose decade-long inbred Muslim-hating Press rant (declared in parts as a hate-crime by the Met Police) surely encouraged Anders Breivik to commit mass-murder in Norway on 22 July 2011. This same Norwegian citizen's Press rant caused ex-Lincoln's Inn Solicitor Farid El Diwany to be told to: "Go fu*k Allah, the Camel' and that his beloved prophet Muhammad was a "confused paedophile" - declared a hate-crime by the Essex Police and referred to Interpol, with the added support of Lord Pickles who was Mr El Diwany's M.P.
---
John Colin Chesterton told the High Court that the following letter from Mr El Diwany to the Solicitors Regulation Authority was 'harassment' as part of his, Mr Chesterton's Protection against Harassment Act 1977 injunction application.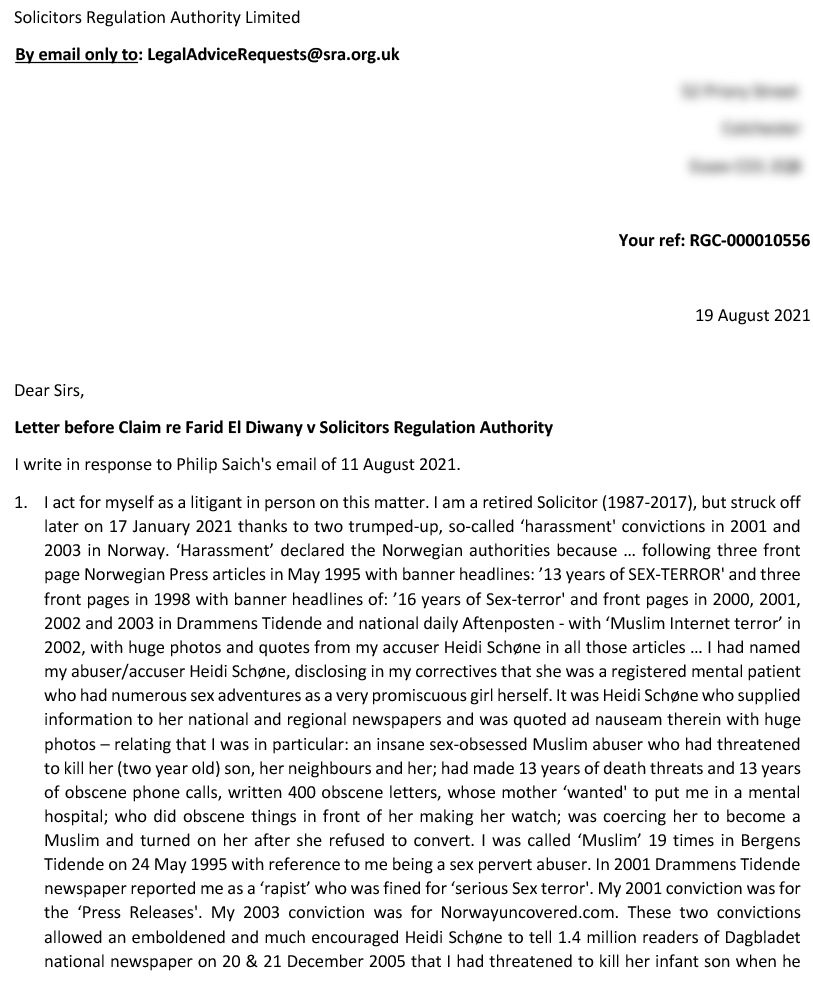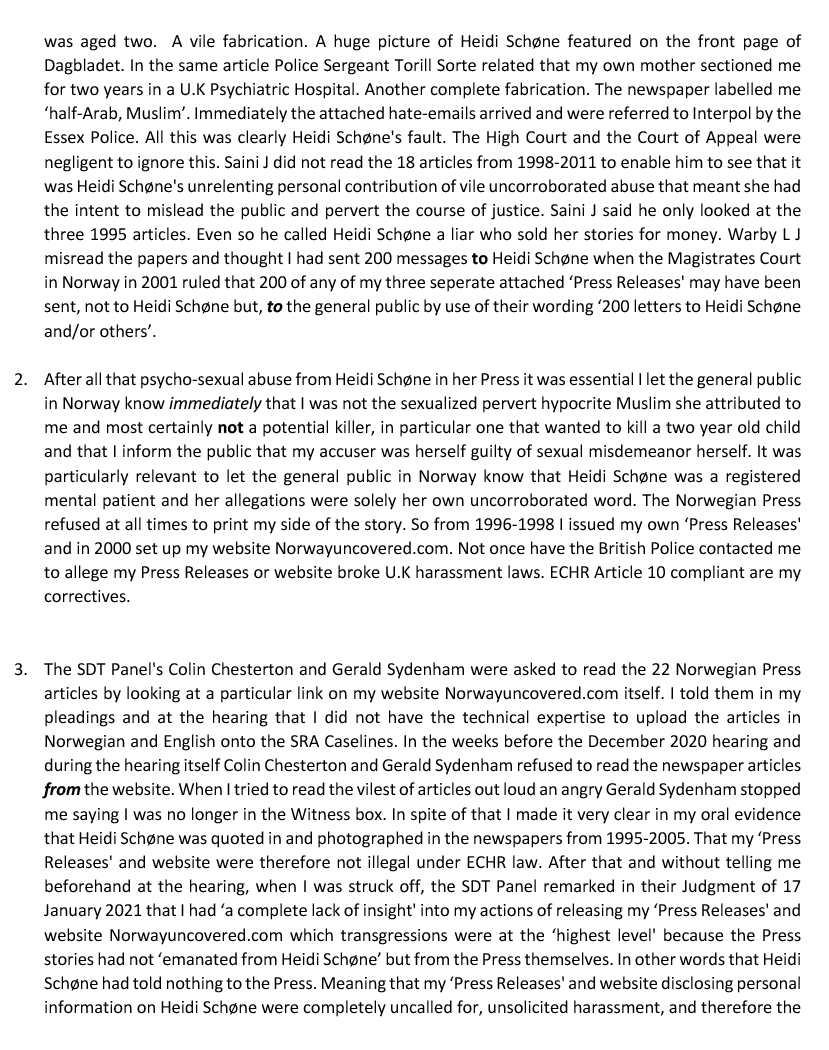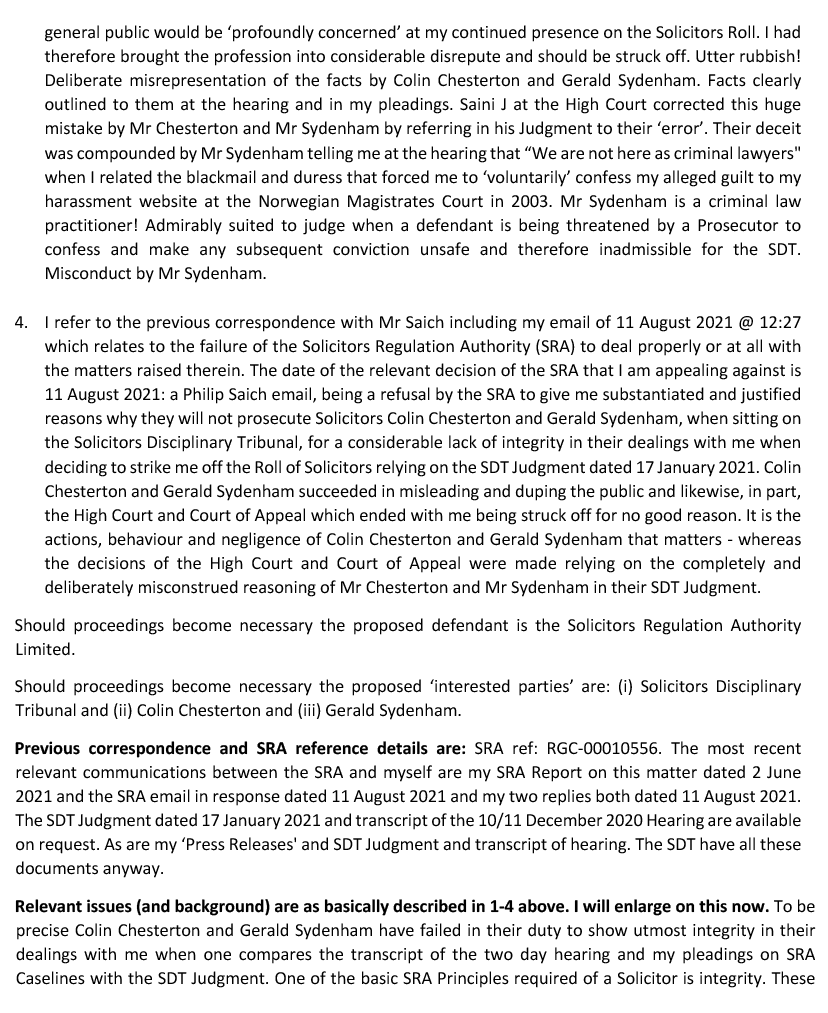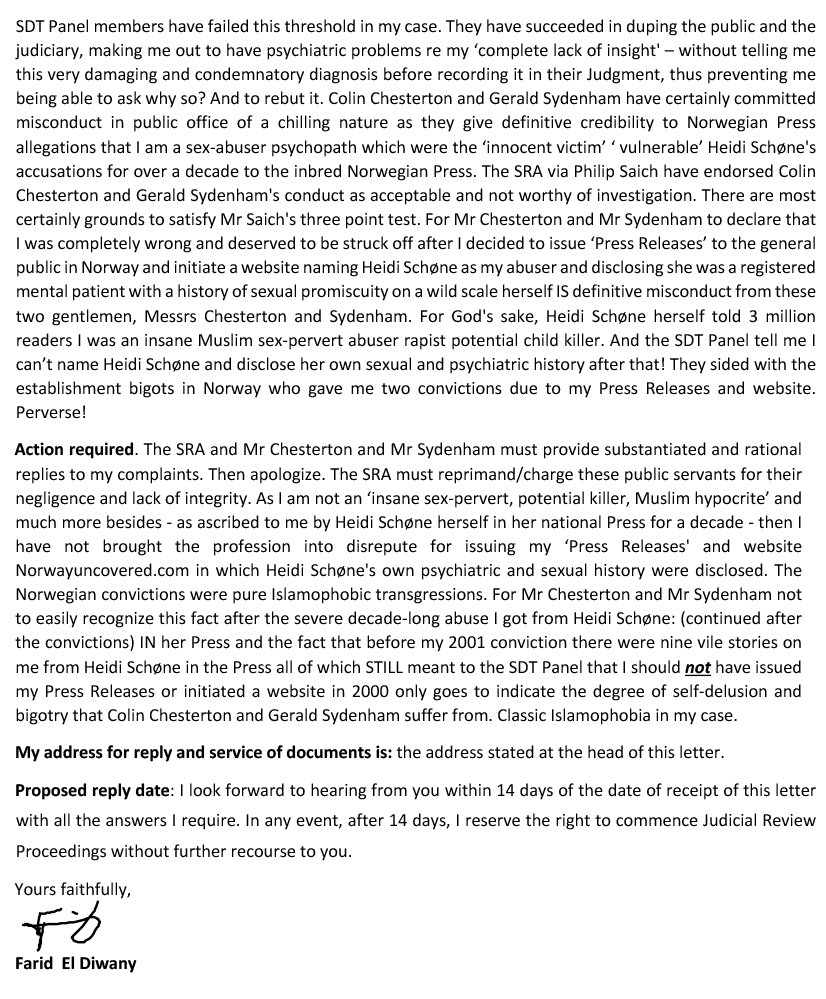 ---
See below the various Press releases on me. Do I give a damn? No! It's a pleasure fighting these quasi-colonialist High Court bigots and their pimps at the SRA and SDT and their arse-licking mouthpieces in the legal Press. How these raving Islamophobes at the SRA, SDT and RCJ hate a thorough telling off in fulsome, Biblical/Quranic language: they call it 'harassment'. Bollocks! It's justified comment. All these officials, and civil servants at the SRA and SDT and the judges will one day retire, then die and be well and truly forgotten. Good riddance to them all.
Farid El Diwany
15 November 2022
Struck-off solicitor mounted 'campaign of harassment' against SDT chief, court hears
A solicitor mounted a 'campaign of harassment' against the chief executive of the Solicitors Disciplinary Tribunal and a member of the panel which struck him off, the High Court heard today.
Farid El Diwany is alleged to have breached an injunction preventing him from harassing Geraldine Newbold and Colin Chesterton, formerly a solicitor member of the tribunal, or any current or former member of the SDT 19 times in the space of 11 days in November last year.
The 63-year-old is said to have left a voicemail message on the mobile phone of Simon Tinkler, a partner at magic circle firm Clifford Chance who dismissed El Diwany's application to be restored to the roll last year, three days before his bid to return to the profession was heard by the tribunal.
El Diwany was struck off in 2019 after he was twice convicted of harassment in Norway, in 2001 and 2003, and failed to tell the regulator. An appeal against that decision was rejected by the High Court, as was an application for permission to appeal.
Last month, his judicial review against the Solicitors Regulation Authority over its decision not to investigate his complaint against two members of the SDT which struck him off – one of whom was Chesterton – was refused as being totally without merit.
El Diwany appeared remotely before Mr Justice Sweeting today, arguing that his communications with the claimants were 'innocuous'. 'There was nothing illegal or harassing about them,' he said.
Newbold and Tinkler also appeared remotely, which David Reade QC, representing the SDT, Newbold and Chesterton, said was because they did not want to be 'present in the same courtroom' as El Diwany.
Tinkler told the court he has sat as a member of the SDT 'for over a decade and have done several hundred hearings and I have … never before had any contact from any of the individuals outside of direct within the tribunal walls'.
El Diwany apologised for being 'blunt' with Tinkler and said he would not attempt to contact the claimants again, adding that they should 'rest easy and forgive and forget'.
The hearing continues.
BusinessFast
24 February 2022
Original Article HERE
Atty Loses Reinstatement Bid After Convictions Disclosed
Law360, London (November 15, 2022, 8:59 PM GMT) -- A London court on Tuesday rejected a former attorney's application to be restored to the roll of solicitors after he was struck off for failing to disclose that he had twice been convicted of harassment in Norway.
High Court Judge Edward Murray said Tuesday that Farid El Diwany had failed to establish that the Solicitors Disciplinary Tribunal had made errors of law or fact when it rejected his application to be restored to the roll of attorneys in November 2021.
El Diwany had also failed to prove that the tribunal committed a serious procedural irregularity by not going into more detail about its reasoning, the judge found.
El Diwany had tried to argue that the disciplinary tribunal was wholly unreasonable not to restore him to the rolls because he is a fit and proper person and did not need to be rehabilitated before he could be readmitted as a solicitor.
But Judge Murray said it was open to the tribunal to rule that the former attorney failed to provide evidence that he had been rehabilitated.
"Simple assertion by Mr. El Diwany that he was a fit and proper person was not sufficient," the judge added.
Judge Murray also said there was no error of law or fact in the tribunal's reasoning when it found that El Diwany had made his application prematurely and failed to provide evidence of his employment and training history since he was struck off.
The judge also noted that El Diwany had applied for the disciplinary tribunal panel to recuse itself from deciding his restoration application, arguing that the only way he could get a fair hearing would be if there were an all-Muslim panel.
The former attorney had claimed that the "Norwegian state-endorsed Islamophobic abuse" he claimed to suffer was an important part of his case that his convictions in Norway were unsound, according to the decision.
"The recusal application did not put forth a legitimate basis of objection to the SDT panel on the ground of bias," Judge Murray said. "It was not open to Mr. El Diwany to pick and choose his own panel."
Judge Murray also rejected various other grounds for El Diwany's appeal, including that the tribunal panel failed to engage with him at the hearing and reveal its thinking or possible objections to his readmission. Judge Murray said he reviewed the judgment and transcript from the hearing and there was no evidence of unfairness.
El Diwany said Tuesday he will appeal the latest judgment, and accused the disciplinary tribunal, Solicitors Regulation Authority and High Court of being "institutionally Islamophobic."
"I regard myself as a heroic whistleblower on Norwegian state-sponsored Islamophobia — all more or less condoned by an Islamophobically immature and incompetent SRA and SDT, and a very prejudiced High Court, where not a single Muslim judge or Black judge sits at the Royal Courts of Justice," El Diwany said.
A representative for the SRA declined to comment.
El Diwany had been practicing as a solicitor at London law firm Gawor & Co. for two years when he was fired after informing his employer in 2017 that he had criminal convictions in Norway for harassment and failed to disclose this at his job interview or since the start of his employment at the firm.
Gawor & Co. reported El Diwany's admission to the Solicitors Regulation Authority, which ultimately got him struck off at the tribunal in December 2019.
The tribunal noted in its 2019 decision that El Diwany had twice been convicted of harassment in Norway in the early 2000s.
One of those offenses involved allegations that El Diwany made numerous telephone calls to a former friend in the mid- to late 1990s. He also allegedly sent more than 200 letters and cards to her, as well as to various individuals and public and private bodies in Norway.
The tribunal noted that the letters El Diwany allegedly sent his former friend contained repeated themes about her sex life, abortions, suicide attempts and her partner's drug abuse. They also allegedly contained references to personal issues relating to her parents.
For his part, El Diwany had argued for various reasons that the convictions against him were unsound, including that his former friend had mental health problems and was an unreliable witness. He also claimed that the prosecutions were "tainted by discrimination" and would not have been brought in the U.K., the tribunal noted in its 2019 decision.
El Diwany represented himself.
The SRA was represented by Benjamin Tankel of 39 Essex Chambers, who was instructed by Mark Rogers of Capsticks LLP.
The case is Farid El Diwany v. Solicitors Regulation Authority Ltd., case number CO/102/2022, in the High Court of Justice of England and Wales.
Editing by John C. Davenport.
By Ashish Sareen - Law360
A New York based Press Association
Links to more articles:
Struck-off solicitor ordered to pay £10,000 for harassing SDT - Business Mayor
Struck-off solicitor ordered to pay £10,000 for harassing SDT | News | Law Gazette
Solicitor's latest attempt to be restored to the roll rejected by SDT | News | Law Gazette
Struck-off solicitor may face civil restraint order after 'misconceived' appeal fails | News | Law Gazette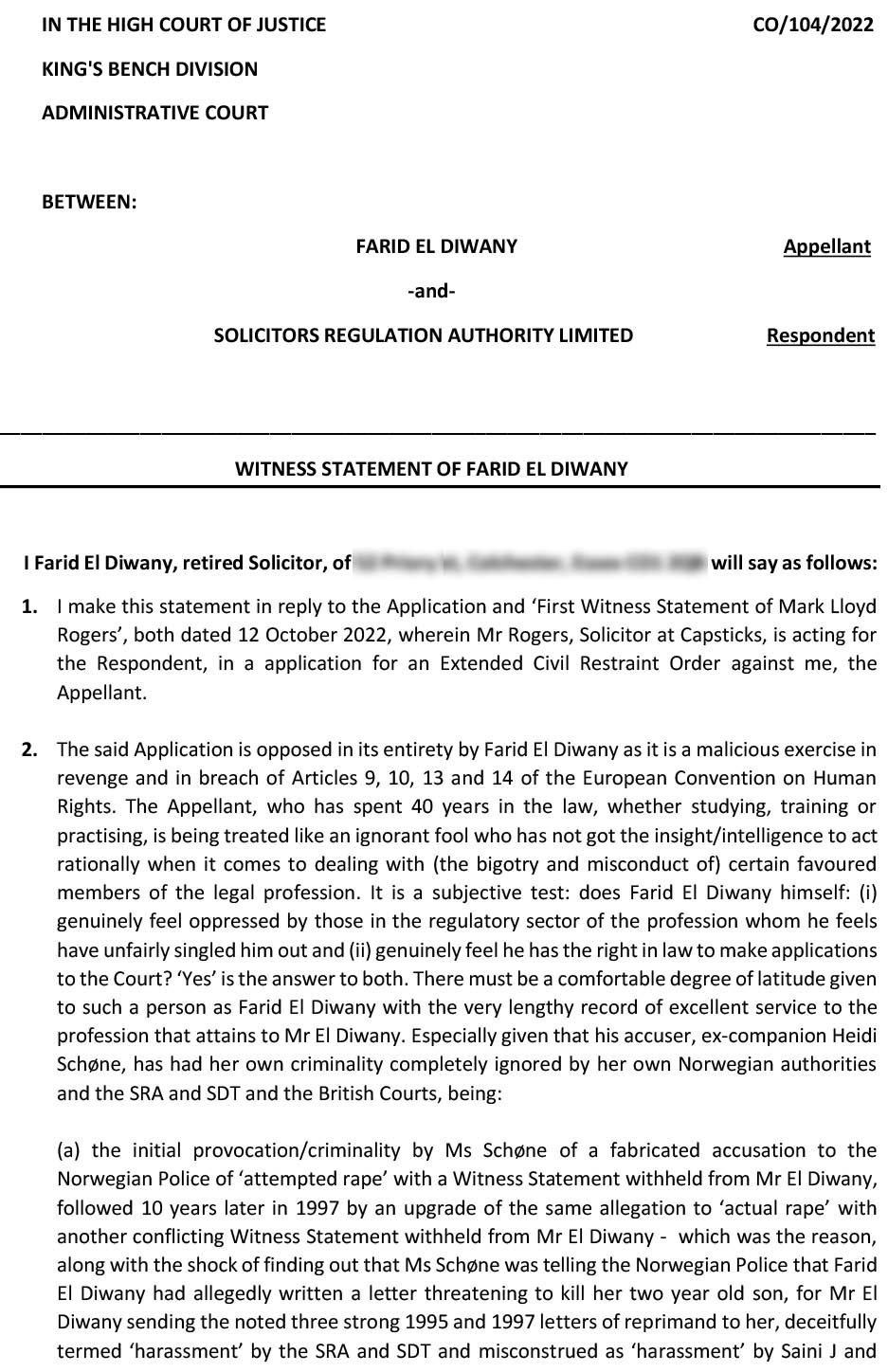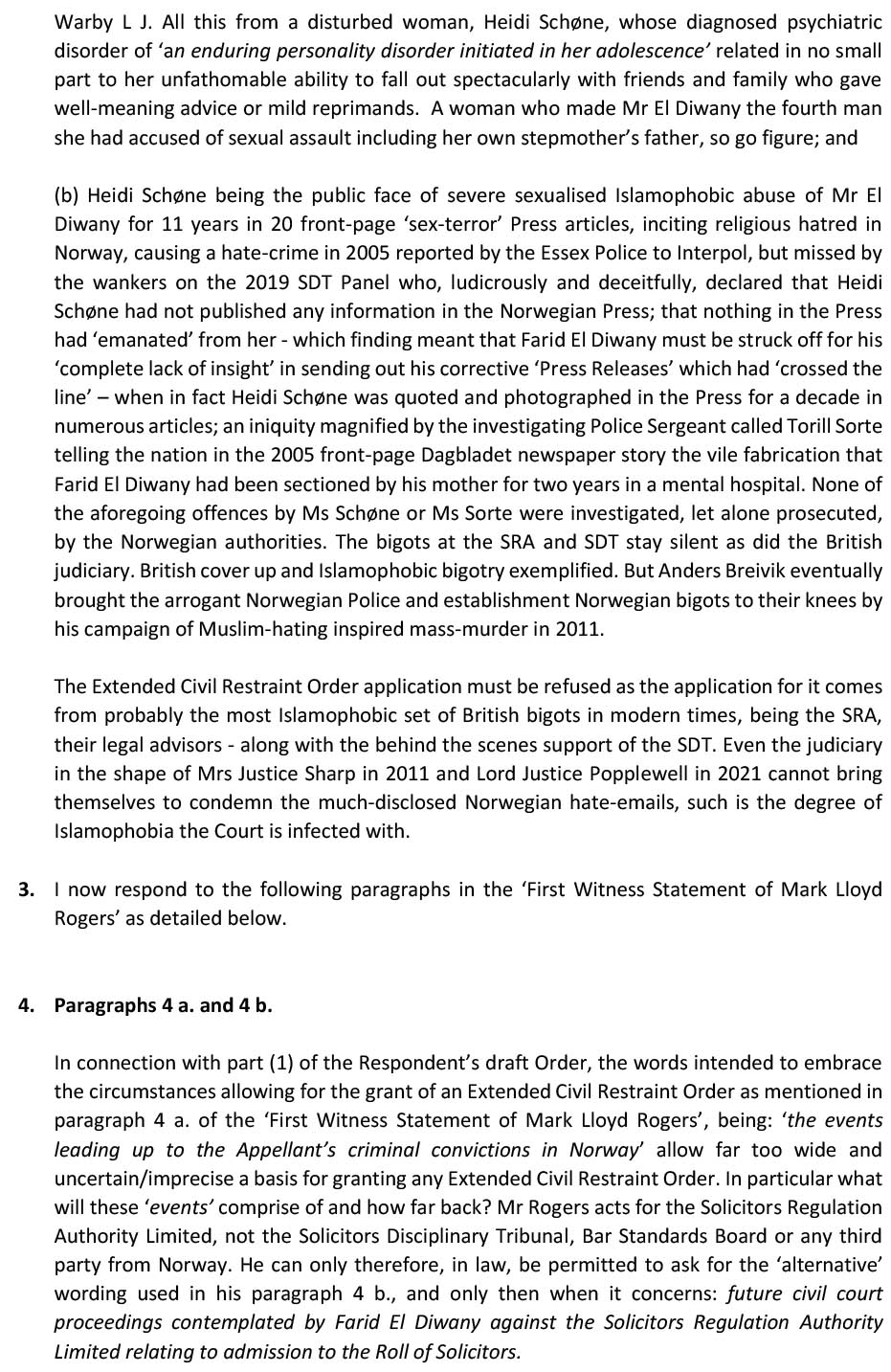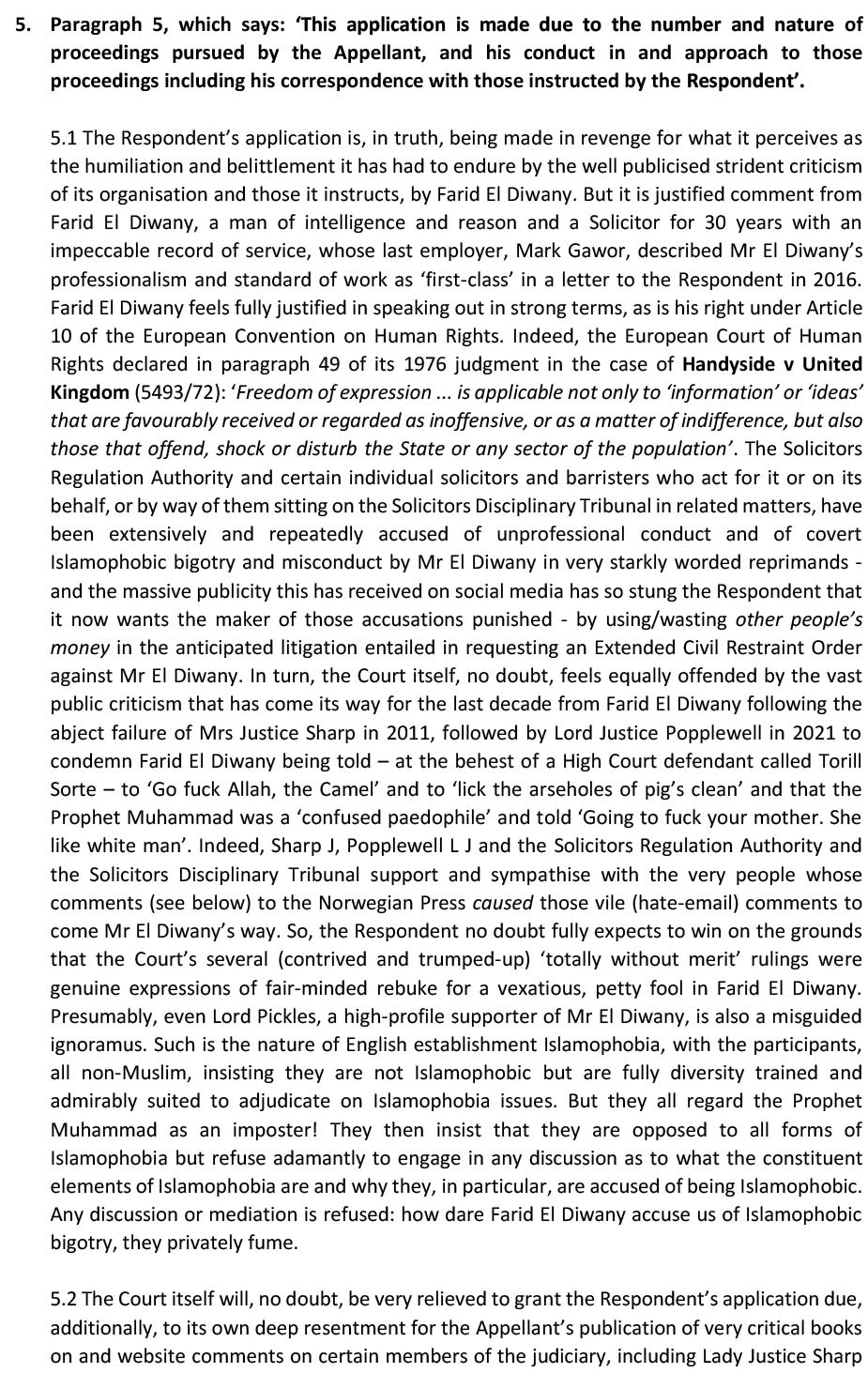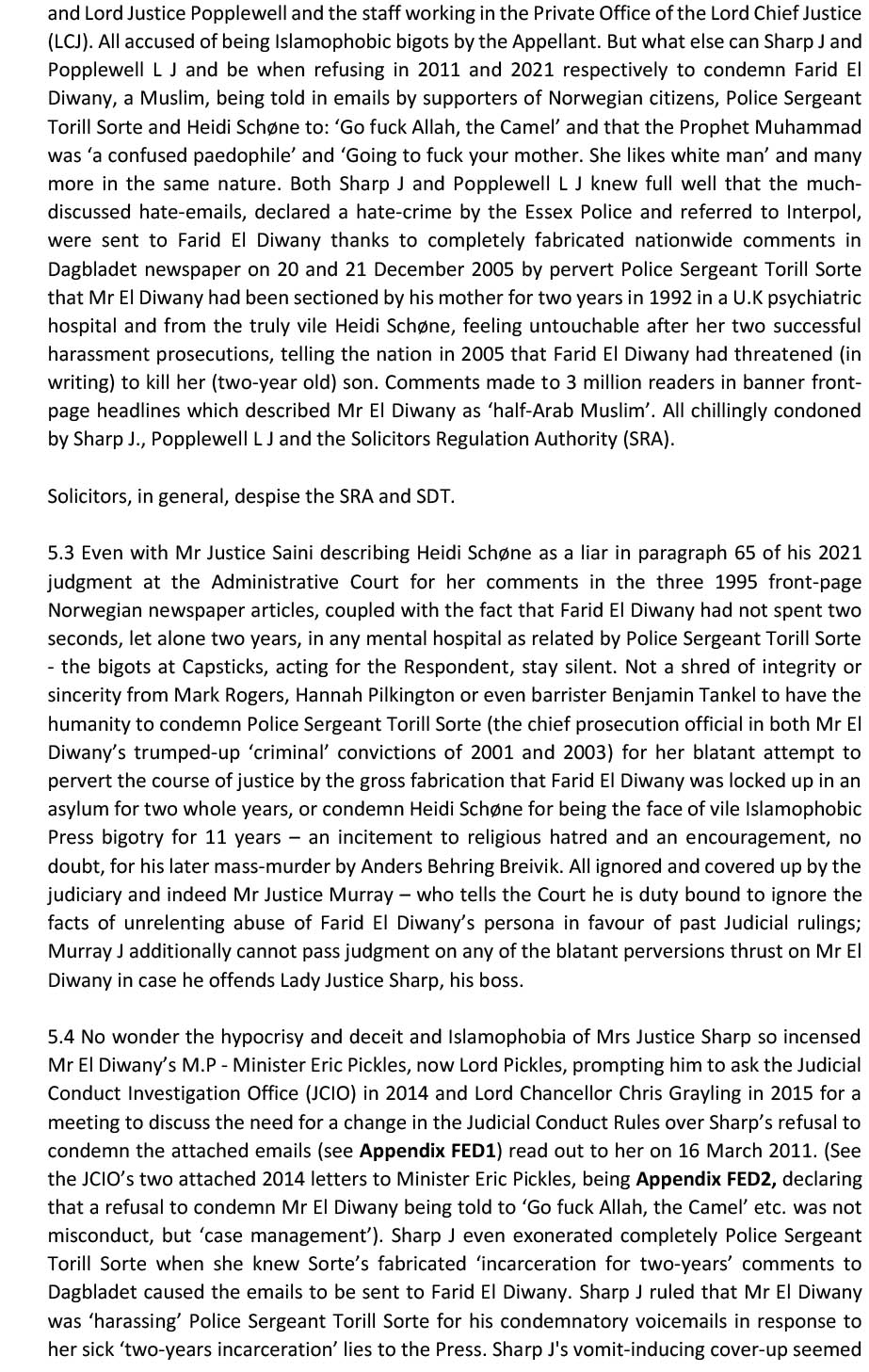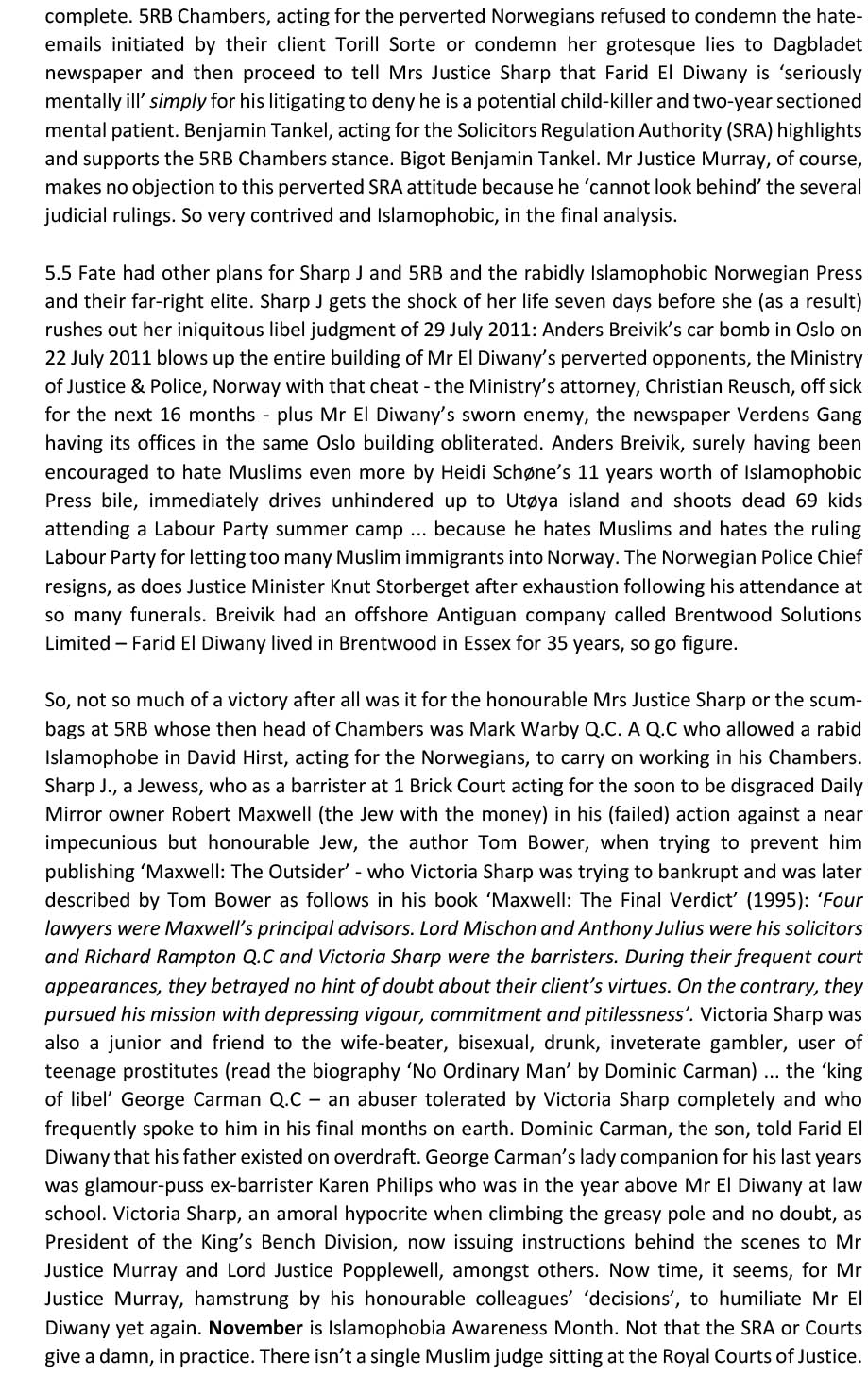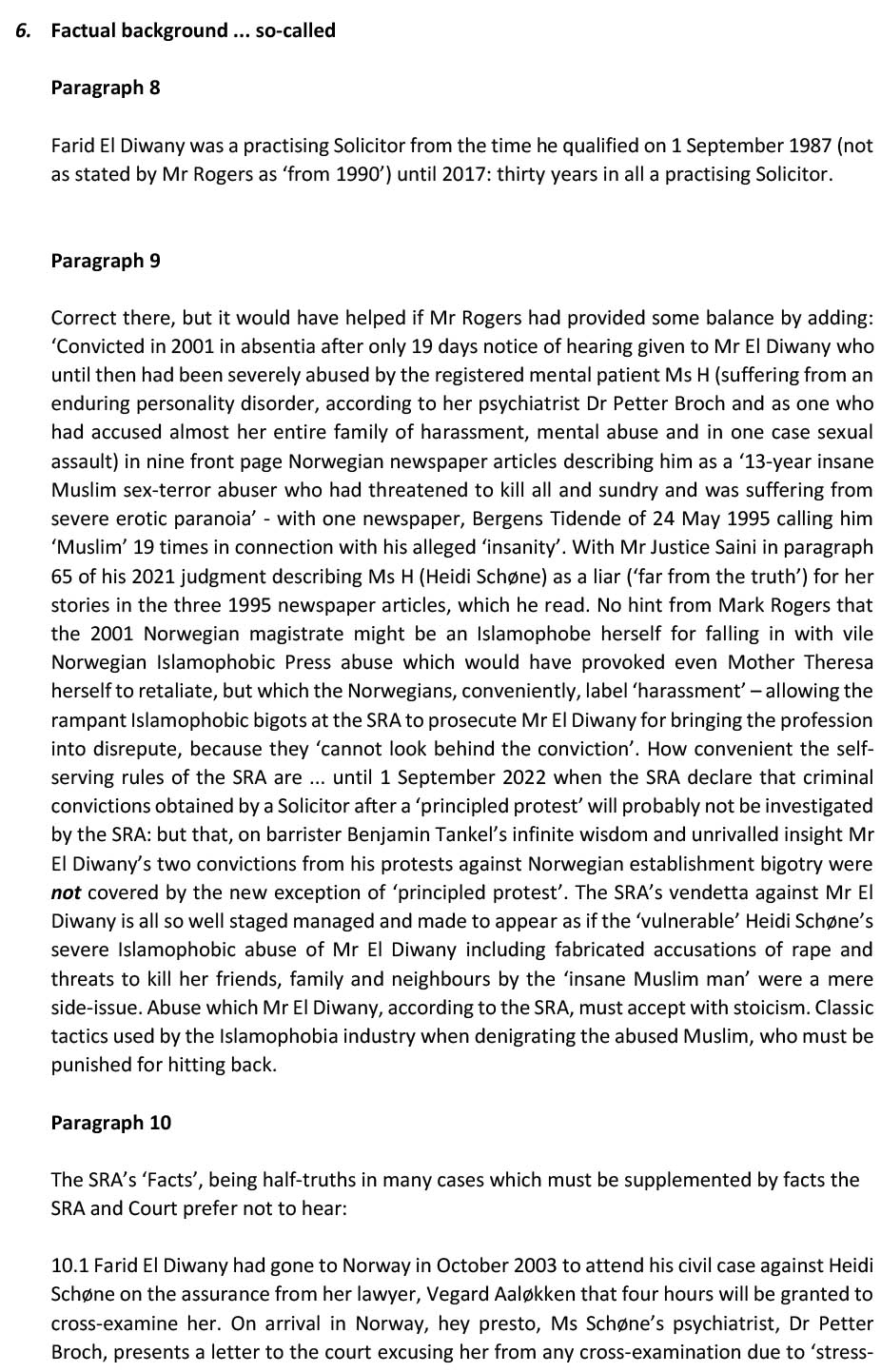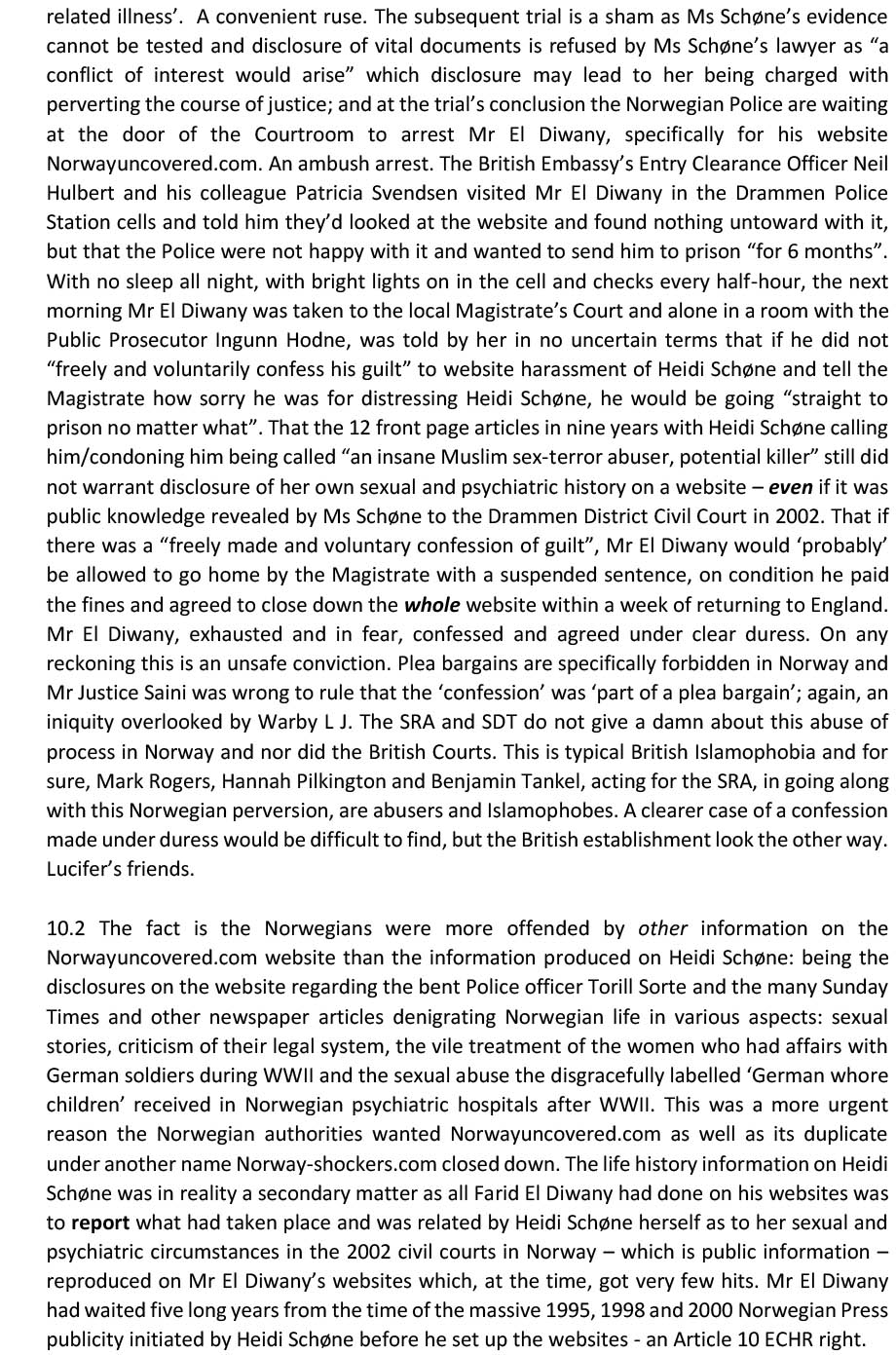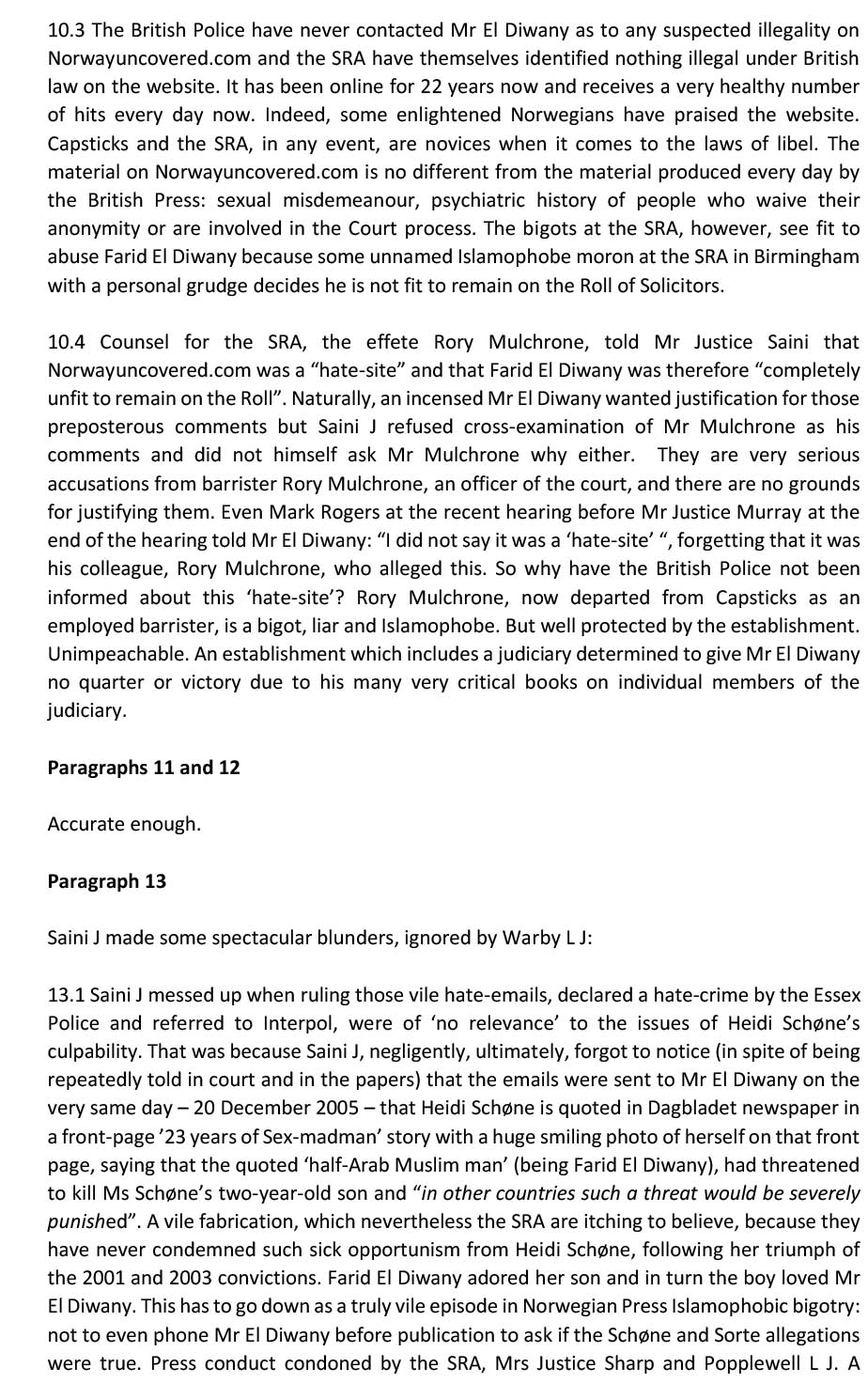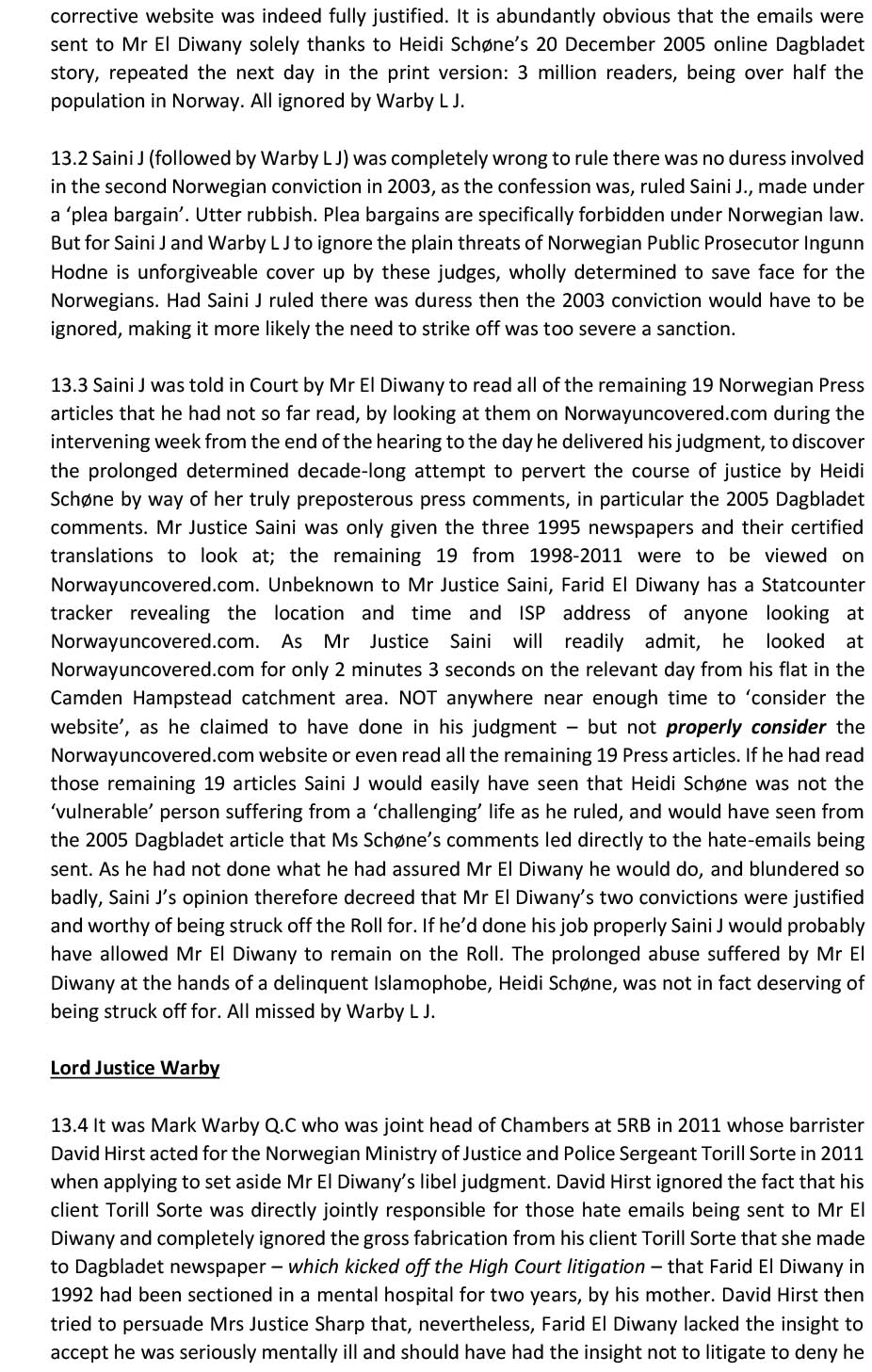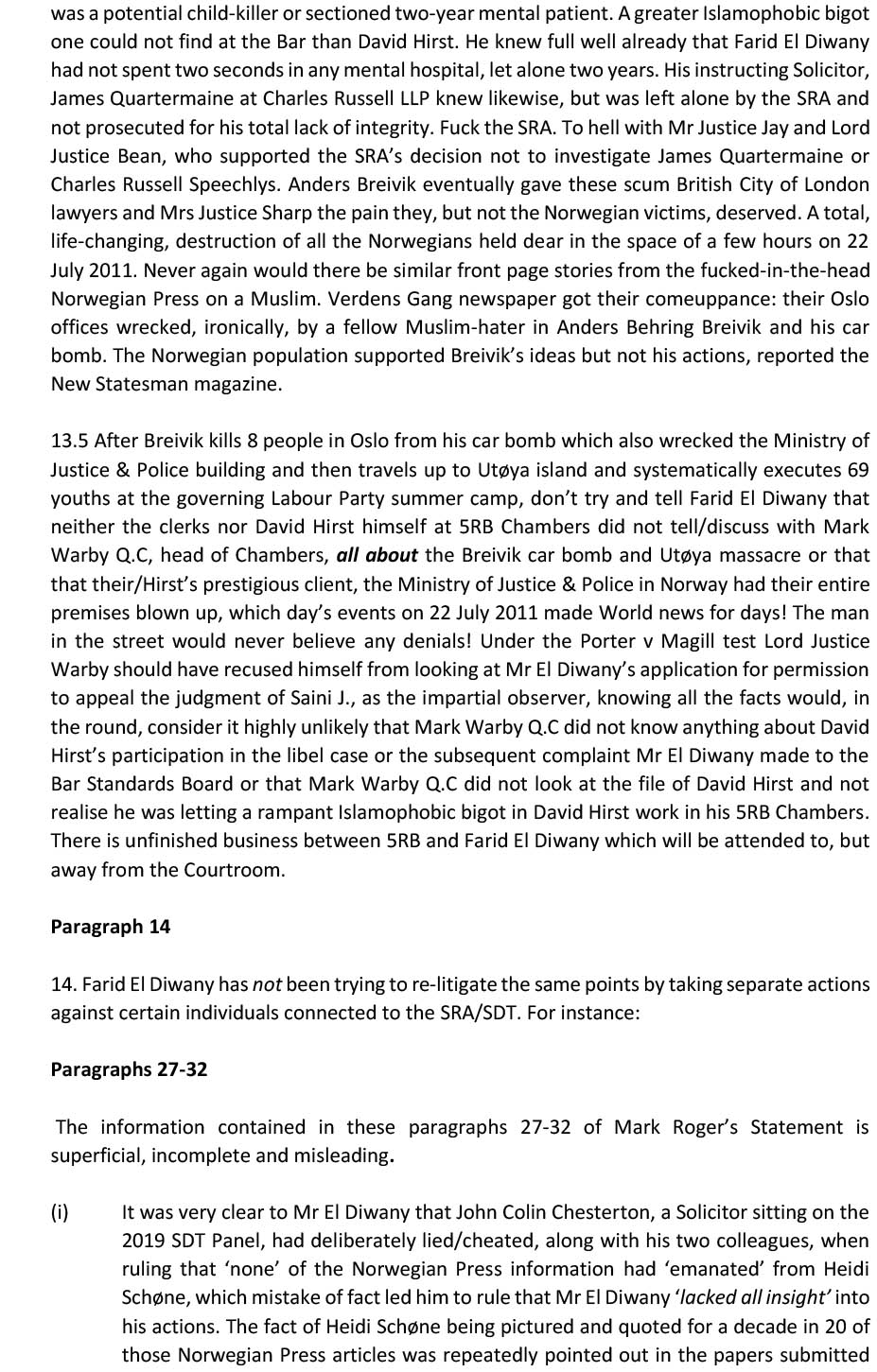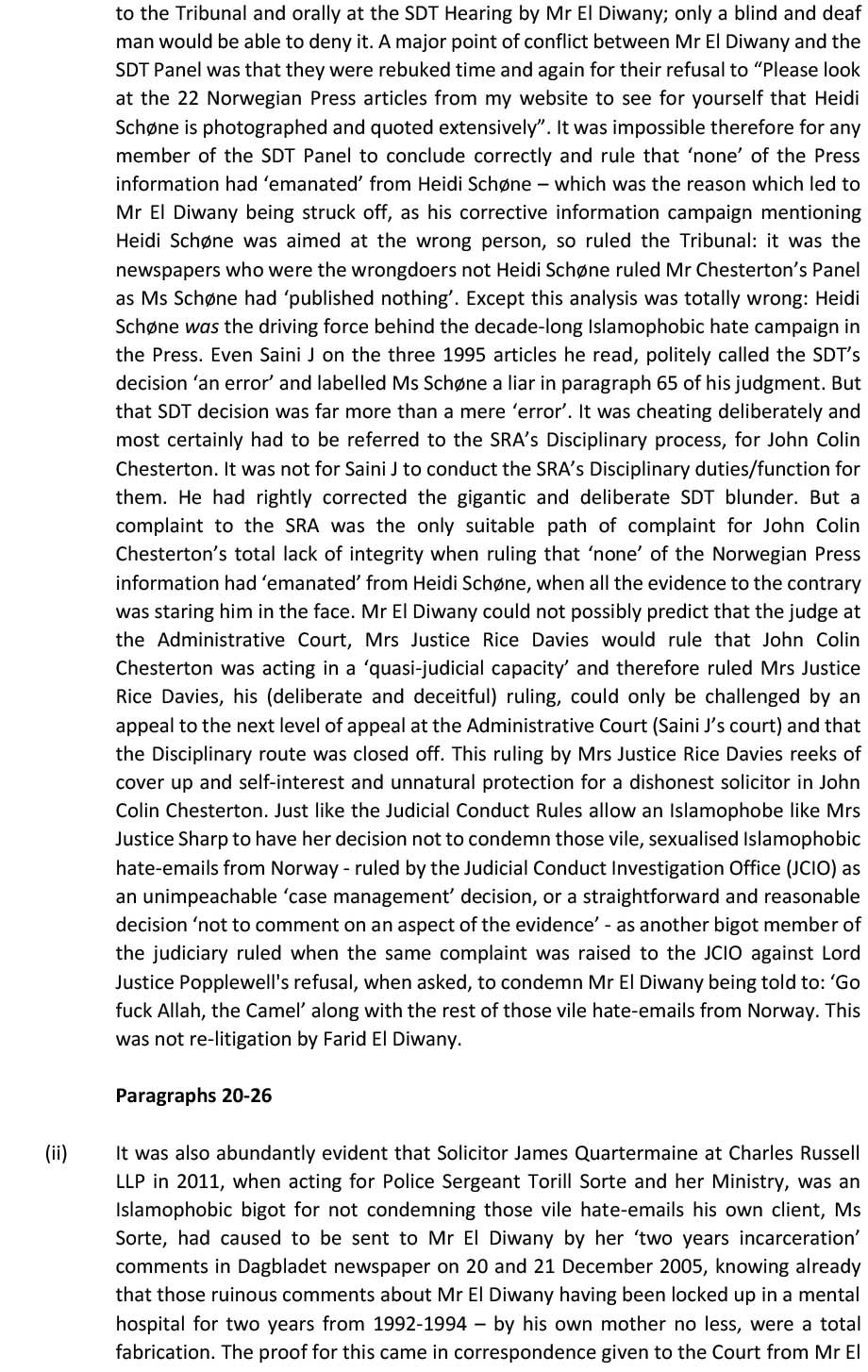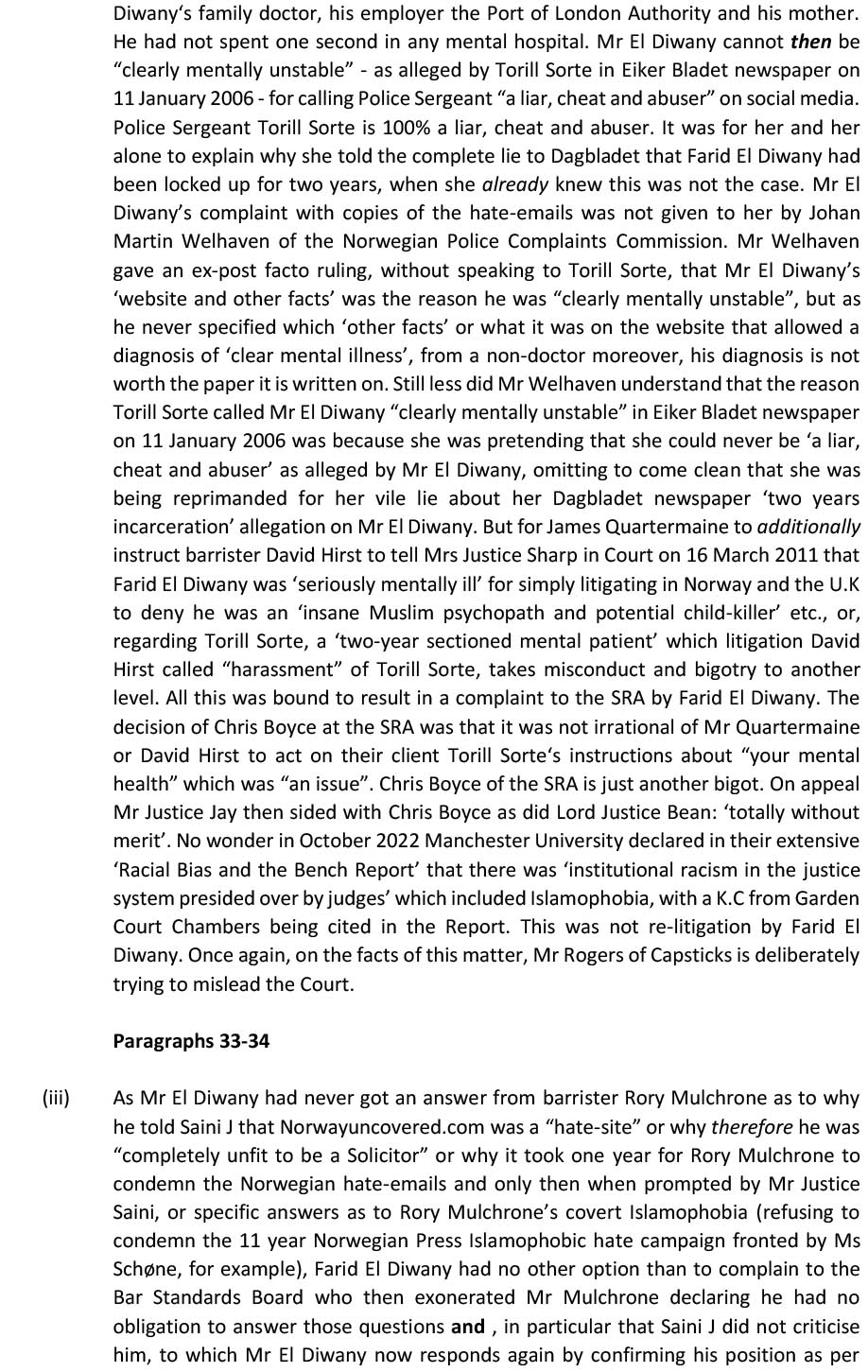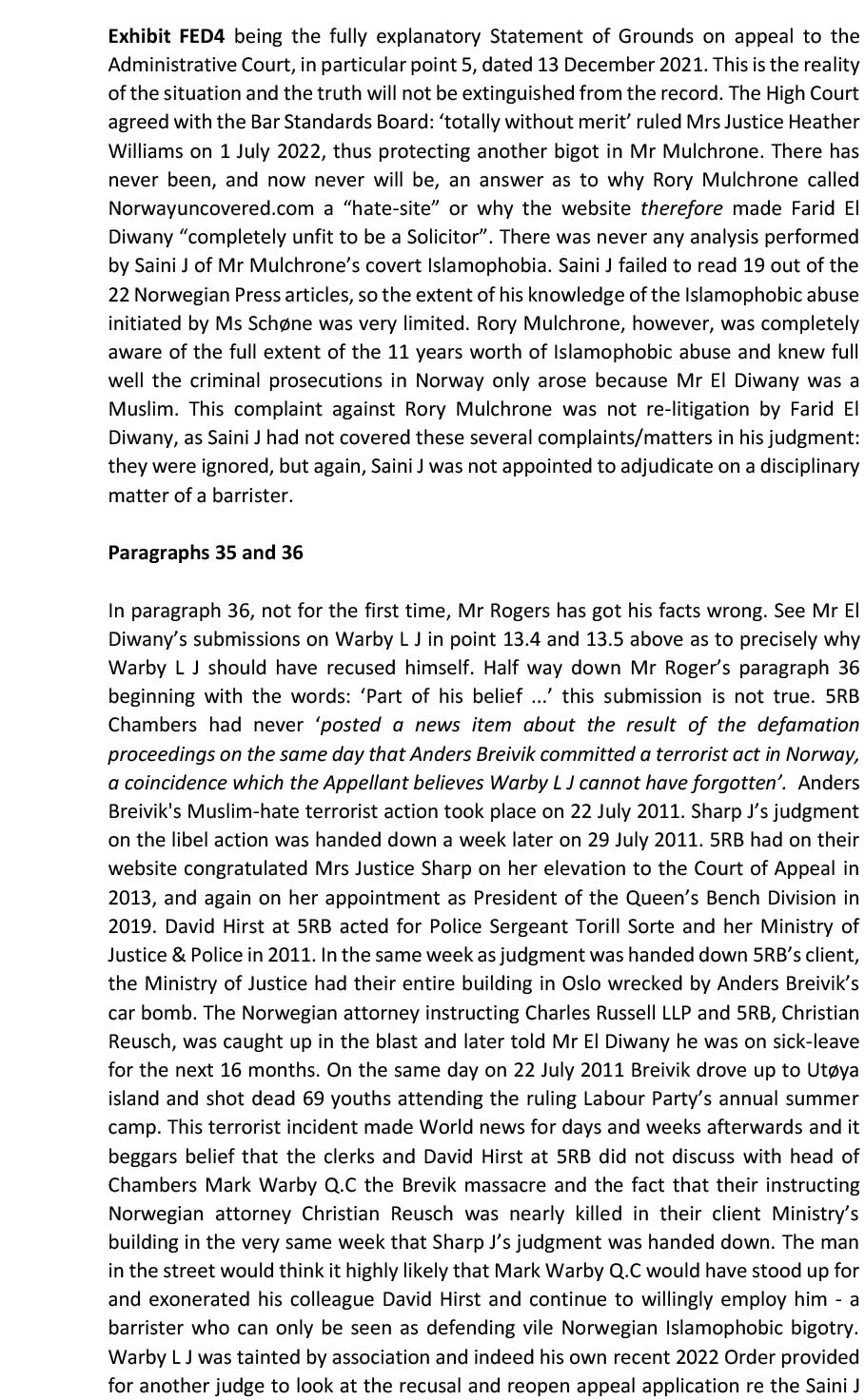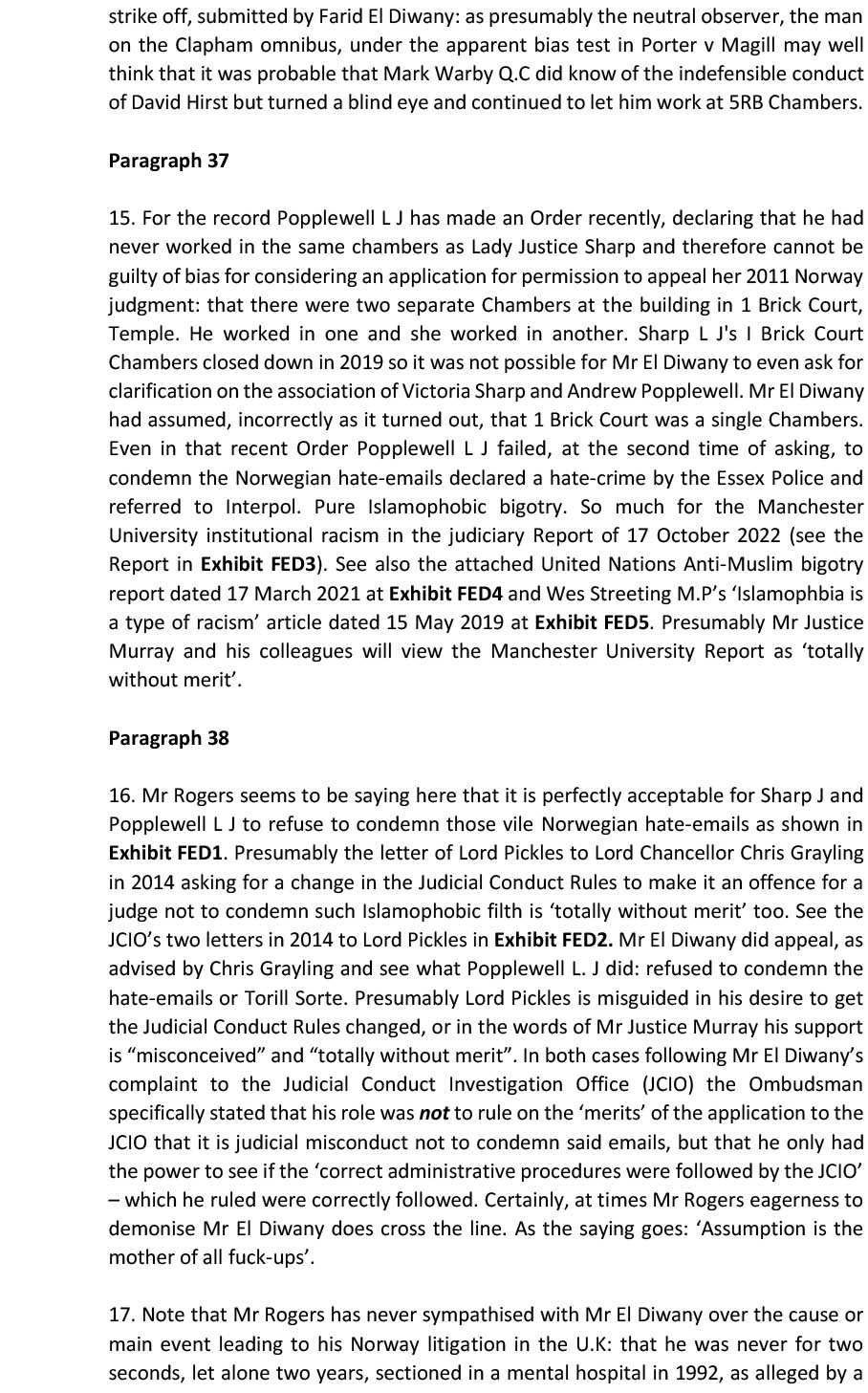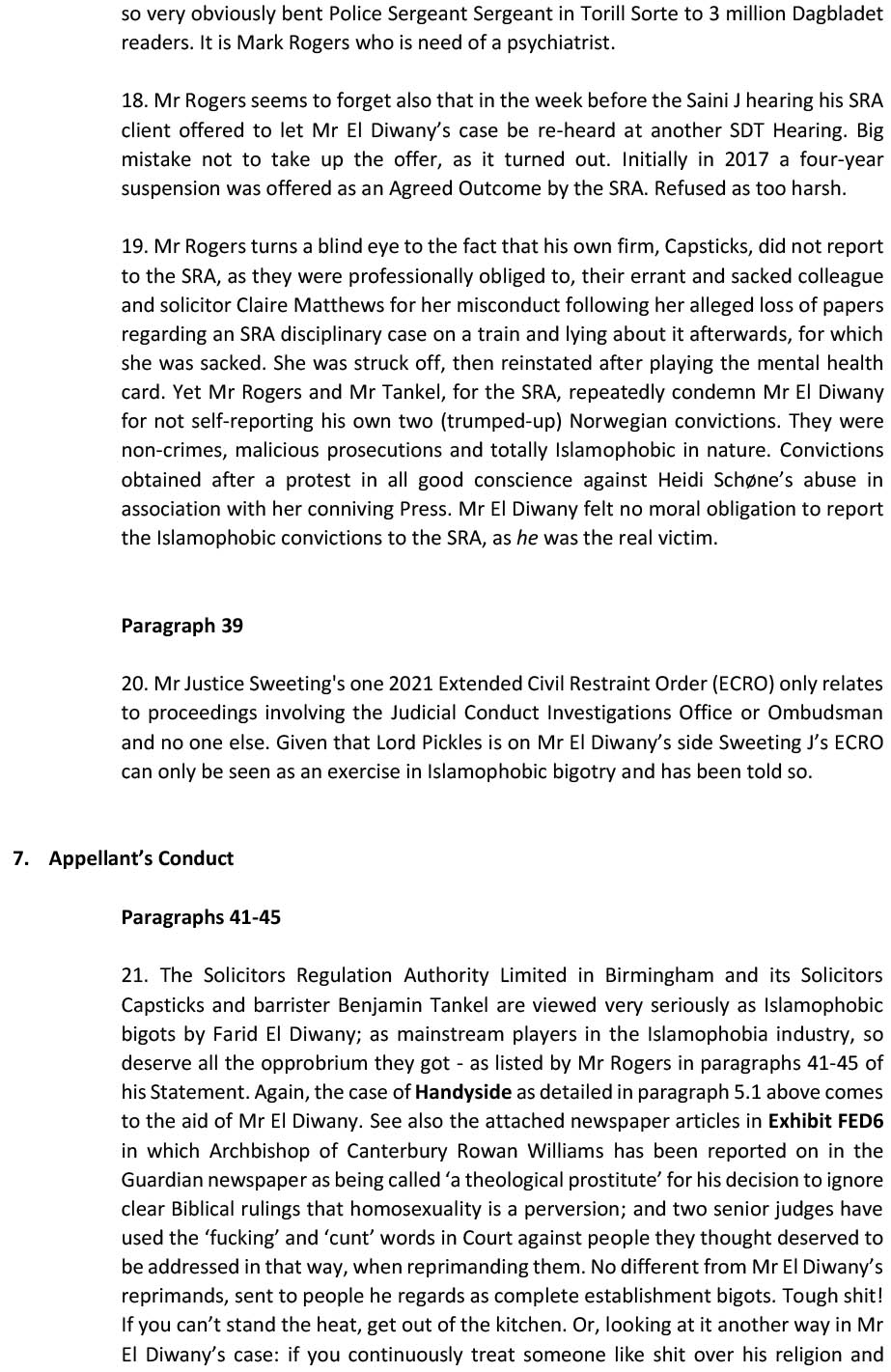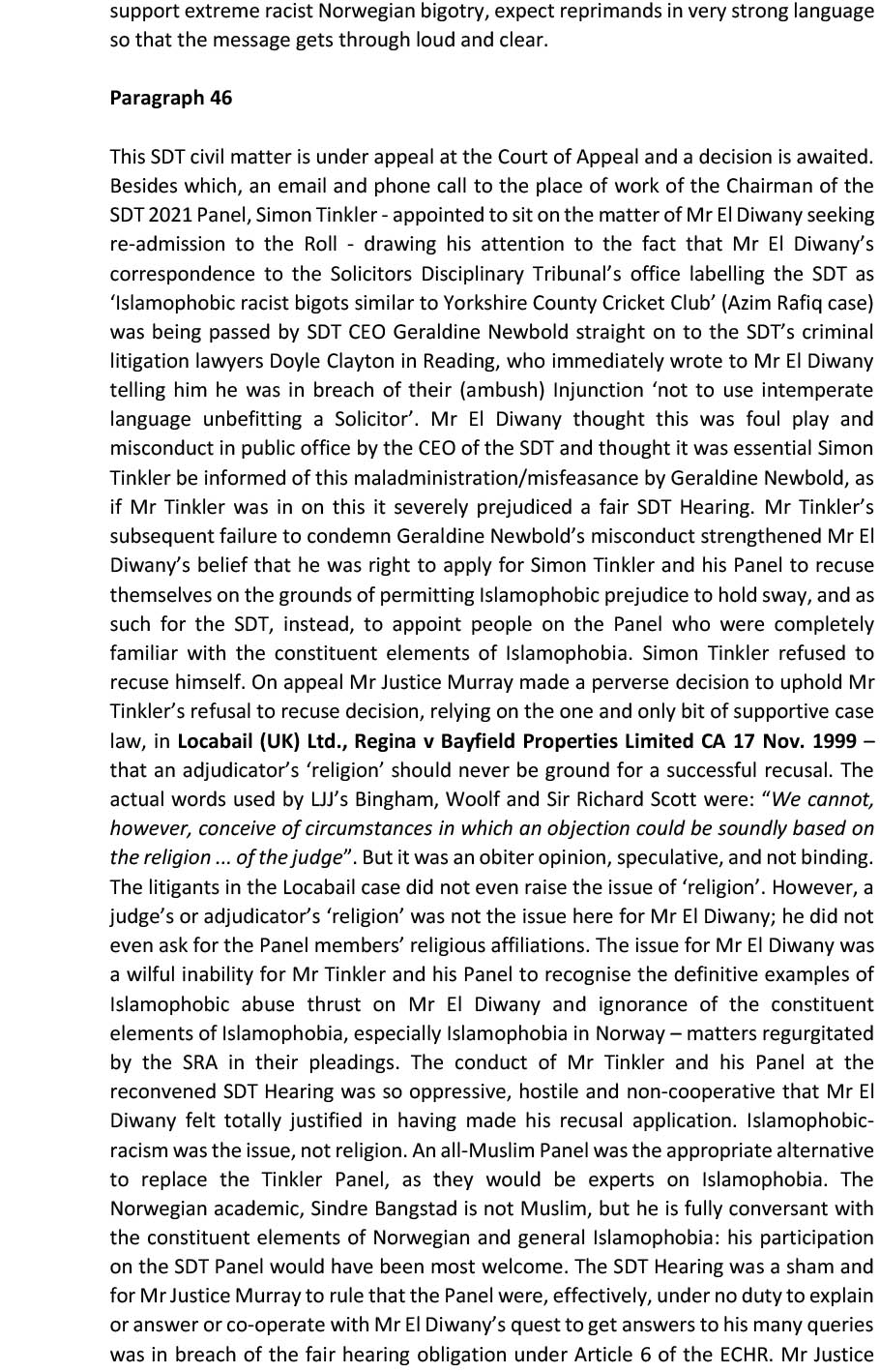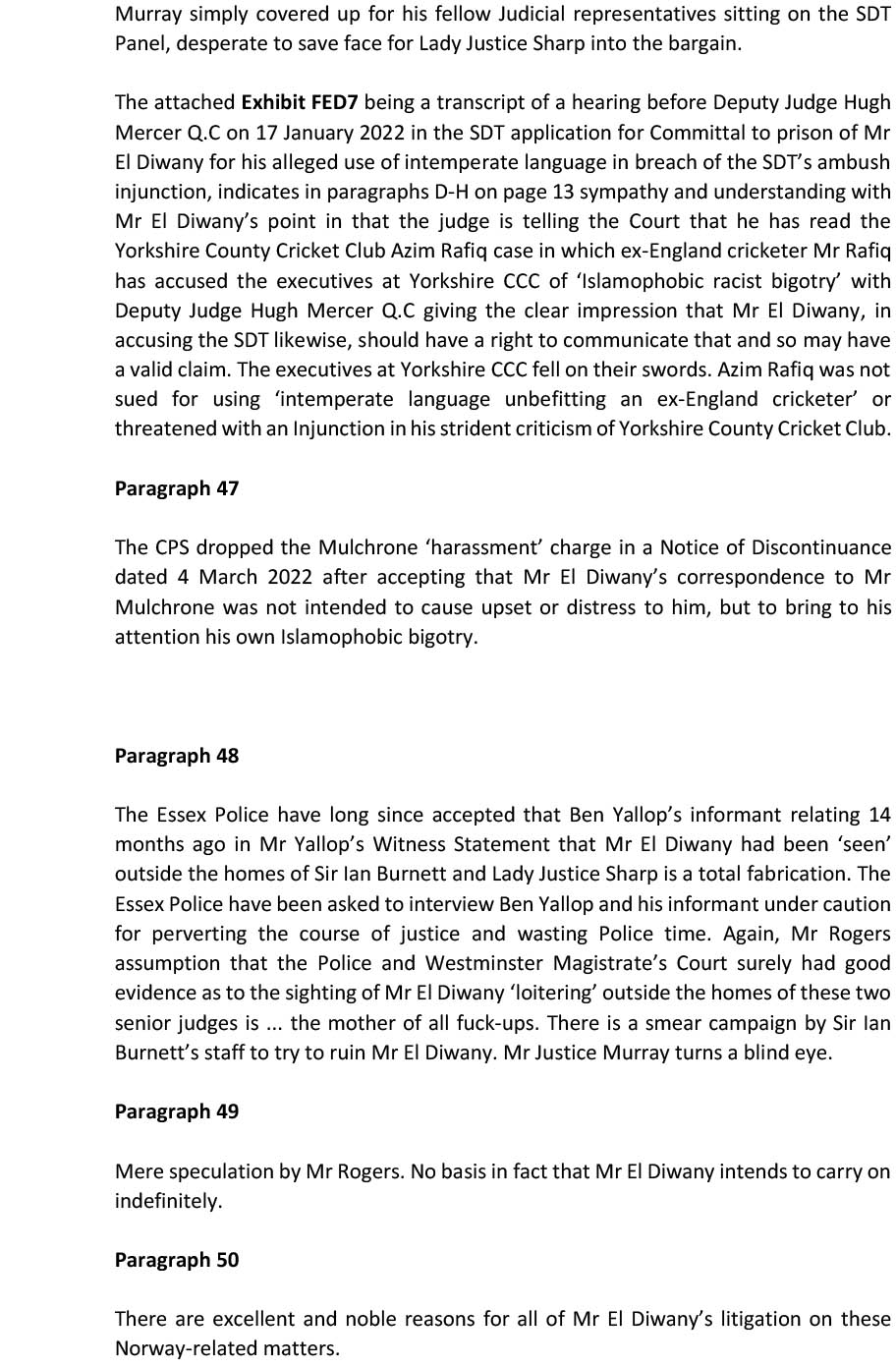 Links to more articles:
High Court rejects struck-off solicitor's bid to return to roll - Legal Futures
Alleged Islamophobia in misconduct proceedings: El Diwany
EYE OF THE MEDIA is completely fucked-up in what they have reported. Very misleading and inaccurate. Wankers!
EYE of the MEDIA: Solicitor In High Court Accused Of Harassing CEO Of Solicitor Disciplinary Tribunal